Hello friends, My friend Gene Blalock, and my boyfriend James Boring are making a film currently, and we need your help. 30 more days to reach our goal.
Please look here ---->
Unlucky Girl Kickstarter
this is a labor of love, I did the storyboards for this project. :D and if you look closely I'm at 2:54 or something. :D
This link is a more informative about our project and also you get to meet Gene, James, our actress
Tara Strand
and our Make up artist
Chris Baer
he's known for doing make up on Angel so c'mon babies! :D
anyway check this out ok. I'd appreciate it.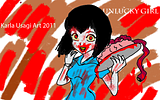 Thanks guys!