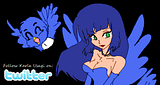 Hey everyone. Check this out! If you want a banner let me know.
The first is the Twitter Banner.
The next is the Cafe Press banner. Yeah, click on it it takes you to my store, so you can buy stuff if you'd like. :D YAY!
Support the arts.
Suggestions for products? Art? How to make better banners?
HOw to display the "Copy the Code" thing? :D
Any assistance is appreciated. :D
Thanks sweeties.
Karla Usagi Art 2010