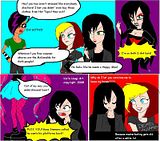 so this was the real idea behind the comics. Usually when Irene and I would go out, it was a goth club sometimes...and we had to deal with many levels of stupidity, but that goes on in any club.
Basically wondering to myself, why the Hell I left my house in the first place.
Enjoy this from 2007.
thank you.